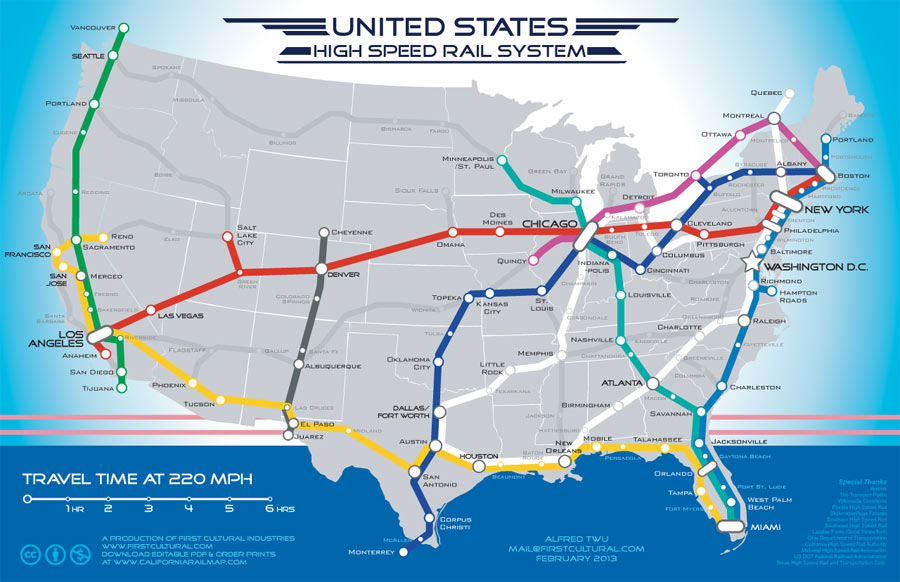 This beautiful, hypothetical American High Speed Rail map is the work of Alfred Twu, an artist who worked on California's High Speed Rail campaign.  He writes about the map, and the popular response it generated, at the Guardian:
While trains still live large in the popular imagination, decades of limited service have left some blind spots in the collective consciousness. I'll address few here:

Myth: High speed rail is just for big city people. Fact: Unlike airplanes or buses which must make detours to drop off passengers at intermediate points, trains glide into and out of stations with little delay, pausing for under a minute to unload passengers from multiple doors. Trains can, have, and continue to effectively serve small towns and suburbs, whereas bus service increasingly bypasses them.

I do hear the complaint: "But it doesn't stop in my town!" In the words of one commenter, "the train doesn't need to stop on your front porch." Local transit, rental cars, taxis, biking, and walking provide access to and from stations.

Myth: High speed rail is only useful for short distances. Fact: Express trains that skip stops allow lines to serve many intermediate cities while still providing some fast end-to-end service. Overnight sleepers with lie-flat beds where one boards around dinner and arrives after breakfast have been successful in the US before and are in use on China's newest 2,300km high speed line.
There are few things I want more for the United States in the short-term future than a high-speed rail system.  I'm glad this has sparked even more conversation -- I hope the majority of the country comes around soon.