One of the funny things about the climate change debate is that, whichever side you're on, you pretty much have to concede that there's a conspiracy.  Either the entire institution of science is cooperating with the liberals to tell a really scary story so that we can cut back on pollution, or high-status, high-influence people are deliberately stoking the fires of climate change denial without regard to the truth of their claims. I mean, obviously, it's the latter.  This article at the Guardian explores the network of donors and think-tanks that are specifically structured to provide resources to climate change deniers.
"Are there both sides of an environmental issue? Probably not," [Whitney Ball, chief executive of the Donors Trust, said]. "Here is the thing. If you look at libertarians, you tend to have a lot of differences on things like defence, immigration, drugs, the war, things like that compared to conservatives. When it comes to issues like the environment, if there are differences, they are not nearly as pronounced."

By 2010, the dark money amounted to $118m distributed to 102 thinktanks or action groups which have a record of denying the existence of a human factor in climate change, or opposing environmental regulations.

The money flowed to Washington thinktanks embedded in Republican party politics, obscure policy forums in Alaska and Tennessee, contrarian scientists at Harvard and lesser institutions, even to buy up DVDs of a film attacking Al Gore.

The ready stream of cash set off a conservative backlash against Barack Obama's environmental agenda that wrecked any chance of Congress taking action on climate change.
The Guardian shared this graph, using data from Greenpeace: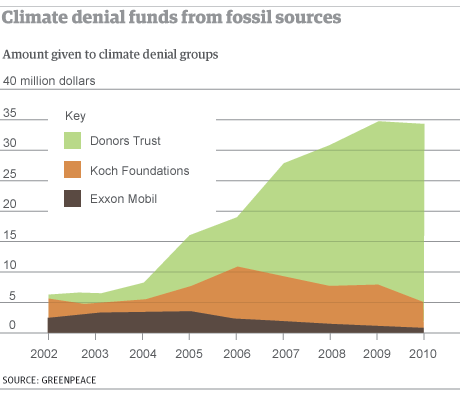 This shows that the overwhelming majority of the money is coming from Donors Trust -- although that's not to say the Koch Foundations and Exxon Mobil executives aren't involved there:
And it was all done with a guarantee of complete anonymity for the donors who wished to remain hidden.

"The funding of the denial machine is becoming increasingly invisible to public scrutiny. It's also growing. Budgets for all these different groups are growing," said Kert Davies, research director of Greenpeace, which compiled the data on funding of the anti-climate groups using tax records.

"These groups are increasingly getting money from sources that are anonymous or untraceable. There is no transparency, no accountability for the money. There is no way to tell who is funding them," Davies said.