(via Ana Ulin on Google+) Randi Zuckerberg, Mark Zuckerberg's sister, tweeted yesterday that she's working for Google now, after the company she works for, Wildfire, was acquired by Google.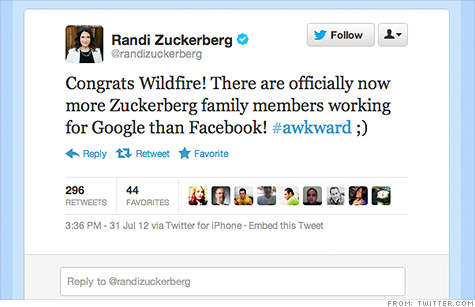 Wildfire is an advertising app that helps organize companies' social presence or a more successful, targeted marketing campaign.  My main focus for this story is that the tweet was funny, but I also want to talk about the existence of third-party marketing organizations, especially backed by Google.
Unlike a lot of people on the internet, I don't think advertising is outright evil.  It needs way more ethical oversight than it has now, but there's a gem of value in there.  If you assume the basic goal of advertising is to connect a customer with a product they would benefit from, then advertising is a mutually beneficial relationship.  With more ethical guidance, the better the targeting, the more valuable the ads are to both the advertiser and the consumer.
We're not moving in this direction now, and even if Google wanted to, their obligation to their shareholders would probably prevent them pushing towards more ethics in advertising.  But I think it's a direction worth pursuing -- even more now that there are companies who specialize in organizing ad campaigns, so the advertiser companies can focus on the quality of their product.